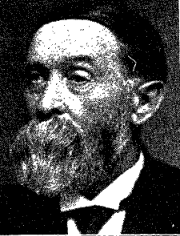 The following biography is an excerpt taken from the book titled: Pictorial Souvenir, The Borough of Red Lion, York County, Pennsylvania, Golden Jubilee, 1880-1930, June Seventh to Fourteenth, inclusive : Fifty Years of Progress:
Seth Minnich was born in near Winterstown, PA, September 13, 1849. His parents were Daniel B. and Eliza Ann (Miller) Minnich. Hearing the road of the cannon and the much excitement that prevailed in York County during the Battle of Gettysburg, Seth was inspired to enlist in the army. This was a very patriotic move as, at this stage of the Civil War, most drafted men were eagerly searching for substitutes. He enlisted on the 14th day of September, 1863, in the Army of the USA, Company B, Regiment 209, Pennsylvania Volunteers, for a period of three years at York, PA. Due to his eagerness to serve his country, he was obliged to misrepresent his age, giving it as 18 years, 3 months, whereas in reality he was but 14.
Seth's parents made Winterstown their home for many years until 1866, when they moved to Ohio. While in Ohio, Seth specialized in commercial work and, for a number of years, followed bookkeeping as a vocation. In 1873, when about 24 years of age, he came east as bookkeeper and foreman of construction gang on the Peach Bottom Railroad, now M. & P. Railroad, under Harry Freeland, the civil engineer. After completion of the railroad, he clerked in the general store for Mrs. Catherine Meyer and helped in laying out lots on the Meyer farm. At this time, Seth and Dr. J. M. Hyson were room mates in the loft of the Peach Bottom Railways depot.
Determined to make Red Lion his home, Mr. Minnich procured a lot of ground from Mrs. Catherine Meyer, on which he erected a two-room house, what is now 256 North Main Street and owned by Quay Minnich (as of 1930). This was in 1879. His coming to this locality at that time was a very fortunate coincidence, as his ability in planning homes and laying out lots proved to be a valuable asset to the town. He was a skilled mechanic, being very active as a painter, paper-hanger and carpenter.
Mr. Minnich took a prominent part in organization of the first Sunday School and Church of the town. He and Rev. E. G. Williams built the pews for the first public place of worship. He was one of the first Sunday School superintendents, and an enthusiastic member of the congregation and Building Committee, each of the first St. John's Reformed Church, built in 1882, and of the second one, erected in 1905. He served as Sunday School teacher and on the consistory of the church for many years.
He took great interest in matters pertaining to education, having served on the School Board for many terms at various times. He assisted in surveying, incorporating and organizing the Borough of Red Lion in 1880. In the same year, he was elected to the office of Justice of the Peace. This office he held until 1898, when he resigned to accept an appointment of Deputy Revenue Collector of the Ninth District under H. L. Hershey, of Lancaster, PA, serving in the capacity until February 26, 1903. In 1909, he was re-elected Justice of the Peace, holding this office until his death.
Mr. Minnich was well known throughout the southern part of York County as a skilled wallpaper hanger. In 1886, he established the Bee Hive Wall Paper Store, which happened to be the first of its kind in this section of the county. He enjoyed a large clientele, having done interior decorating in many homes, churches and other public buildings.
Mr. Seth Minnich continued in active service at his chosen vocation until within a few months of his death. His last illness, due to a general breakdown, confined him to the house in the fall of 1925. He died October 25, 1925, at the age of 76 years, 1 month and 17 days.
Total Page Visits: 1007 - Today Page Visits: 1