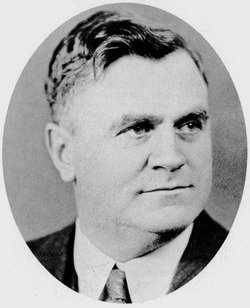 The following biography is an excerpt taken from the book titled: Red Lion, The First One Hundred Years:
Mr. Haines was born the son of Ambose and Rebecca Wallick (Henry Wallick's daughter) Haines a few days after the incorporation of Red Lio, at the first Wallick House (on the east side of South Main Street at the square). He attended Red Lion public schools, and later worked as a hand and salesman in the cigar industry.
In 1912 he entered the cigar manufacturing business in partnership with S. S. Sechrist. Haines later was the sole owner of his own business, H. L. Haines & Co., operating as many as 3 factories. He retired from the cigar business in 1936.
During the first World War, Haines was identified with almost every drive and undertaking of the Red Cross, Liberty Loans, War Chest and similar projects. He was honored with a certification of appreciation from President Woodrow Wilson.
Haines was first elected as Chief Burgess of Red Lion in 1921, a position to which he was elected three times. Before his term of office there were no paved streets in town. By the time he left office, every street and many of the alleys were paved. Improvement of the town's street lighting is also attributed to his leadership. Haines was the General Chairman for the 1930 Golden Jubilee Celebration and was active as a leader in the former Bethany United Brethren Church.
From 1894 to 1916, Haines was a well-known baseball player, playing on Red Lion and York teams as a a shortstop and catcher. He was offered a contract with the Baltimore Orioles by the famous John J. McGraw.
In 1930, Haines was elected to his first term as United States Congressman. He was a member of the 72nd, 73rd, 74th, 75th and 77th Congresses, where he served as a leader of the Pennsylvania Delegation, was a member of the Post Office and Post Roads Committee, and a member of the commission for the 75th anniversary of Gettysburg. Among legislation he introduced was a bill authorizing the carrying of air mail by the post office.
It was due mainly to Congressman Haines efforts that the present postal facility (present in 1980) was erected in 1935. Harry Haines passed away on March 29, 1947.
Total Page Visits: 1074 - Today Page Visits: 1